Business Growth
A tool to stay ahead of your growth curve
When you misidentify an issue, don't understand its underlying causes, try to solve only one aspect of a problem, or try to deal with any of the complex factors that come with growth, it can create chaos in your business. One of the most critical and beneficial steps you can take is to understand your fundamental growth issues and address them BEFORE they arise.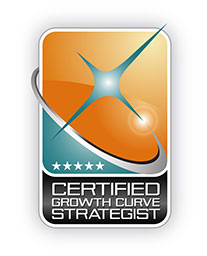 Using the Stages of Growth X-Ray™ diagnostic tool, we can determine your company's current stage of growth; critically assess your past, present and future so you can adjust your focus accordingly; identify the hidden agents – defined as 27 Challenges – that are impacting your company's ability to grow; and develop a plan to solve those issues. This business alignment tool is part of James Fischer's 7 Stages of Growth research, which involved 650 CEO's of small and mid-sized companies, in 35 different industries.


People Increase Complexity
It should come as no surprise that as companies grow the complexity level increases, and that complexity is due to people. The 7 Stages of Growth Entrepreneurial Development Model serves as a crystal ball, telling business owners what to do when so you can:
Focus on the right things at the right time based on the number of employees you have
Predict how growth will impact your organization
Adapt your leadership skills as the company grows
What kind of outcomes can you expect?
Clarifies where your company is in its current stage of growth and why you're experiencing issues, plus provides a comparison of your company to the "ideal" company for that stage of growth
Strengthens leadership confidence and competencies
Provides a benchmark of progress that can be reviewed in 6-12 months to evaluate successes achieved and reassess areas of improvement
Enables you to look behind, examine today, and look ahead to see what's creating obstacles to growth
Puts words to your critical top 5 issues and enables you to see how your leadership team defines them
Helps align management team, allowing them to identify and address issues sooner to strategically tackle critical issues
Creates a language of growth that engages every employee in helping you meet stated initiatives
How prepared are you to predict how growth will impact your company? Contact us and we'll help you find out. We look forward to working with you.
I have complete trust in Verus Partners. I've worked with Chet Marino on several projects and know I can count on his integrity, reliability, and thoroughness to achieve the desired results.
Marketing Executive, Professional Services Company